How to Protect Kids Online
Parenting is hard work, especially when you have to parent in unfamiliar ways. Today's parents are dealing with issues generations past didn't face, such as how to protect kids online.
Previous generations certainly had their own fears, but, today, many of the issues facing our children result from the internet.
Yesterday's story of a pedophile luring a child to a van is today's online predator. 
Since technology is constantly evolving, it can feel overwhelming to know how to protect kids online.
But it is necessary and vital.
According to the FBI Internet Crime Complaint Center's Internet Crime Report: 2020, cybercrime involving children victims more than doubled from 2018 to 2020.¹
The pandemic ushered in even more cybercrimes involving children as more children were online daily. These crimes involve many of the same cybercrimes affecting adults, including email scams and identity theft, but they also include cyber predators.
The internet is not always a safe place for adults, let alone for kids. These 20 tips show how to protect kids online.
#1 Know the Dangers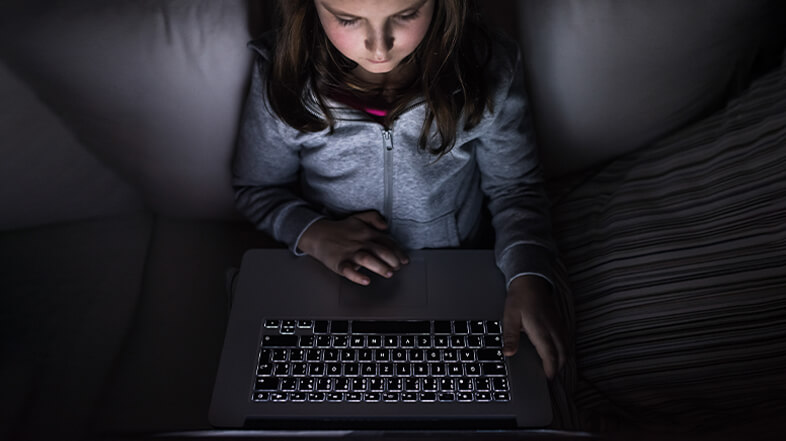 Unfortunately, there are many dangers for kids online. 
A simple search could land them on an inappropriate website. 
According to GuardChild, "70% of kids ages 8-18 have accidentally encountered online pornography, very often by entering an innocent search term while doing their homework."²
In addition to kids stumbling upon inappropriate websites, there are actual cybercrimes targeting children.
Safe Wise reports³:
"Almost 34% of kids age 12–17 have been cyberbullied at some point in their life, and 11.5% have bullied someone else online."

"Adults who use the internet to entice children for sexual or other types of abusive exploitation are considered online predators. Child victims can be as young as 1 or as old as 17. When it comes to online enticement, girls make up the majority (78%) of child victims—while the majority (82%) of online predators are male. And 98% of online predators have never met their child targets in real life."

"Over 55% of tweens (kids age 10–12) have been exposed to violent content on the internet, and nearly 60% have come across sexually explicit words or images."
#2 Talk to Kids about Cybersecurity
It's one thing for parents to know about the dangers, but it's more important for parents to talk to their kids about these dangers.
Kids need to be aware that these dangers exist and how to protect themselves. 
You can tell kids until you're blue in the face that they need to use strong passwords, but if you don't explain why this is so important, you won't get through to them.
#3 Keep Devices in an Open Environment
For as long as possible, keep your kids' devices where you can see them.
It makes it much easier to supervise them when they go online, play video games, or watch television.
Consider keeping all electronic devices in a shared space, such as putting a desk in the living room. 
As kids get older, give teens a digital bedtime and have a family charging station (preventing kids from taking cell phones to their rooms).
#4 Monitor Devices
While kids want and need privacy, it is important to perform periodic check-ins. It's up to parents to determine how often to check their kids' search histories, online chats, text messages, etc.
However, kids should know that there is always a possibility that you will check their devices.
#5 Consider Investing in Parental Control Software
Consider investing in parental control software if you want to monitor what your kids are doing online more closely.
Tools, such as Bark, monitor emails and social media.
Check out SafeWise's Best Parental Control Apps of 2022.
#6 Use Parental Controls
Most devices have parental controls that prevent kids from going to websites they shouldn't.
Check to see if your internet provider offers router-level settings. Next, use built-in controls on your operating systems. Then, adjust the Google Safe Search settings.
Finally, use Apple's ScreenTime for iOS or Google's Family Link for Android for phones and other mobile devices.
#7 Explain Stranger Danger in Modern Times
Parents tend to warn their children about stranger danger in the real world. 
In today's world, this also means warning kids about stranger danger online. Kids need to understand not everyone is who they say they are online.
The kid they think they are chatting to in a Roblox chat room may actually be a pedophile hoping to gain their trust.
#8 Discuss Cyberbullying
Cyberbullying is occurring more often with bullies utilizing electronic means to tease, say mean-spirited things, spread rumors, share images, and threaten.
Make sure your children know what cyberbullying is, what to do if it happens to them, or if they see it happening to someone else.
#9 Keep Personal Information Private
Adults are told to keep their personal information private so they don't fall victim to cybercrime.
Unfortunately, this same type of cybercrime targets children.
Tell kids they are never to share personal information with strangers online OR in any online forums.
#10 Teach Them: See Something, Say Something
Encourage kids to treat cybercrimes and cyberbullying the same way they would in the real world – tell a teacher, parent, or other trusted adult.
It is also wise to tell them that certain apps and social media have tools for reporting devious behavior.
#11 Reviews Games, Apps, and Social Media Sites before Downloading
Kids are very quick to download apps without reading the full descriptions. For example, they tend to ignore notices about in-app purchases or privacy.
#12 Bookmark Kids' Favorite Sites
An easy way to avoid your kids going to sites you don't want them to is to bookmark their favorite websites.
#13 Talk to Kids about Common Cyber Scams
Teach your kids some of the cybersecurity tips you use in your life, such as to think before you click.
Point out that there are many types of email scams or pop-up scams that are out to steal their information, like the ones suggesting you won $1000.
Homeland Security's Stop Think Connect campaign for kids explains, "If the offer seems too good to be true, then it probably is. How many of you have ever received an email offering something free, like a cell phone or concert tickets? These are tricks designed to get you to give up personal information or click on links to automatically install malware or spyware."⁴
#14 Make Sure They Use Strong Passwords
We cannot stress enough the importance of using strong passwords. If you are worried about your kids constantly forgetting their passwords, consider investing in a password manager.
#15 Check Privacy Settings
Take some time to review the privacy settings on your children's devices and apps. Explain how they need to keep the information they post online to a small group of people they know in the real world, and these settings keep them safe.
#16 Keep Devices Up to Date
Kids, like adults, get annoyed when they are interrupted by a notification to update their devices. But, they need to understand that this is one of the best ways to protect themselves and their devices. This is because updates include the latest cybersecurity features.
#17 Teach Kids How to Identify Secure Sites
Even before they have money of their own to spend, they are going to try to start shopping online. They will find the item they want and ask for your credit card.
But, kids need to be taught that many cyber stores are unsafe. Teach them to look for the HTTPS on the full web address and the security lock symbol when shopping.
#18 Stress the Importance of Locking Devices
Once your children reach the point of taking devices with them on the go, you need to stress the importance of always locking devices. 
They don't want someone else accessing their device and doing anything that will result in their getting in trouble (such as sending rude text messages).
#19 Remind Them That They Are Creating a Digital Footprint
One of the hardest lessons to learn and the most important to teach is that a digital footprint lasts forever.
Sadly, whatever kids post online as a tweet can come back to haunt them when they are in their teen years. What they post as teens can make it hard for them to get a job in their twenties.
#20 Set a Pin for Purchases
Last but not least, parents, make sure you require a pin for purchases if you are entrusting your children with a device linked to your credit card. Those in-app purchases and video rentals add up quickly.
We regularly post videos with financial information and updates. Check us out on YouTube.
Sources: